While Lauren Conrad was at home blogging her little heart out about being accused of bumping uglies with stinky boy Justin Bobby, Audrina Patridge was having coffee talk with Heidi Montag.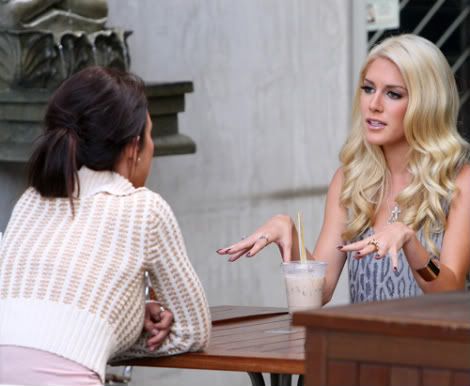 Here comes the part where I use the word "rumor" a lot. It's been rumored that Damien (Spencer) Pratt started the rumor of the hook-up. Wow, that would be a shock.
The funny thing is Damien (You know who I'm talking about, right? Little Damien from the "Omen") was spreading other stuff this week too, by telling Fox News on Thursday that he is (sarcastically) praying for Whitney Port's spin-off show, but his real thoughts are with Audrina Patridge, who is experiencing "personal problems" that are too dramatic to talk about.
"My real prayers go to Audrina; she really needs it at the moment. She is going through a lot, I just wish her and her health all the best," Spencer said. "Something big is wrong, but it is up to her as to whether she wants to go public with it."
What an ass.
Why would Audrina want to have anything to do with these freakers? I think that she should really consider looking into taking some Anthony Robbins courses.
Heidi on the other hand, is looking less like a self-proclaimed Christian and more like a Damien-endorsed-ate-up-spit-out-hooker.
In more comments to Fox News, Heidi actually said, "It's really important to be here today (they were at TACO BELL)— world hunger is a bigger issue than people realize. Every six seconds a child dies of world hunger, so that's a huge cause."
Spencer Pratt, the guy who totally reminds me of Ghandi added, "I think right now we need to help America the most." With that Heidi added that she would also really like to assist Africa and Romania.
Huh?
Darling boyfriend Pratt backed her up by saying, "Romania? Where did that come from?"
Do you think that Heidi will wear something similar to this outfit when she applies for ambassador with UNICEF? You know, when she concentrates all of her efforts on feeding the children of Romania.
For all of you out-of-towners who would like to know what people really dress like in Los Angeles... No one walks around town with full pageant makeup and a get-up like Heidi's during the daytime. Not unless of course you're competing for Miss Hollywood Boulevard . Audrina on the other hand, would be a better example of typical Angeleno daytime attire.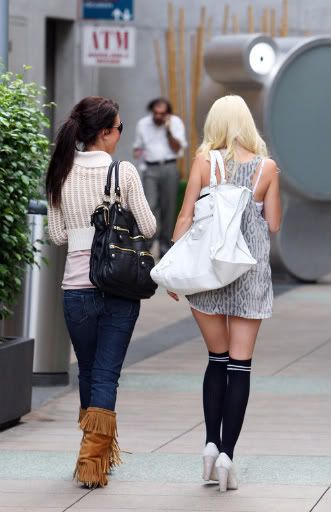 Photo credit: Pacific Coast News Online