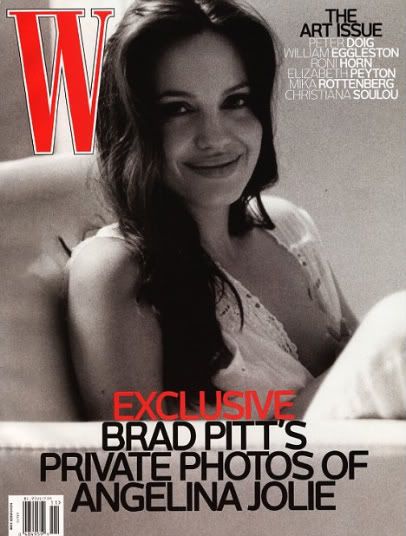 I know that I say this every other day but the woman is stunning. And no, I'm not a switch hitter. But for Angelina Jolie??? Hmmm. Well maybe. Juuuust play'n.
The photographer was her partner, Brad Pitt, who shot private photos for the next issue of W magazine this summer at the French chateau they were living in. Could she look any more peaceful and content in this photo?
You can see the tiny hand of one of the twins that she was breastfeeding. So sweet.
In the interview, Angie shared her thoughts on never wanting to have biological children and how Brad changed her mind on that.
She said, "I think one of the life changing things that he did, one of many, is that I was absolutely never going to get pregnant. I never felt that it was the right thing to do."
Seeing Brad with adopted children Maddox and Zahara, changed her view: "I knew that he would never see them as different, and that gave me a certain peace.
I suppose I just looked at him and loved him and just felt open to [getting pregnant]. I suddenly wanted to. It's one of those things you can't explain.
I'm just a mom and I'm very grounded by my family. I'm very happy, and I'm so lucky.
The world can like me, hate me, fall apart around me, and at least, you know, I wake up with my little kids and I'm happy."
And that's an excellent attitude to have.
Angie also talks about the fact that she is with a man who appreciates the changes that go on in a woman's body.
She said, "I'm with a man who's evolved enough to look at my body and see it as more beautiful, because of the journey it has taken and what it has created.
He genuinely sees it that way. So I genuinely feel even sexier."
That's cuz he's a Missouri boy Angie. They get it.
The Jolie-Pitt's who were in the US for about a week to promote Angie's film "The Changeling," have since headed back to Europe.
The family of eight was seen arriving at the airport in Nice, France on Wednesday.