Travis Barker was released from the Doctors hospital in Augusta, Georgia today following a horrific plane crash that occured on September 19, that took the lives of 4 people and seriously injured Adam "DJ AM" Goldstein.


Travis who suffered severe burns on his torso and lower part of his body, is said to be traveling back hom to Los Angeles. A source told People magazine that Travis who is traveling by bus back to L.A. , will not not be getting on any more planes. The source said, "Trust me, [Barker] will never fly again — ever."


And who could blame him? It seems to me that the guy had already had a premonition about all of this to start with.
Another source said that Travis will continue treatment at a hospital in L.A. and that he just "wants to be home." They added, "He's not in good shape. It's still serious. It's very serious."


TMZ reported that DJ AM, who was released a few days ago and is back in L.A. now, apparently went against doctors orders to pay his respects at a memorial service held today for Travis's assistant and good friend Chris Baker, who was killed in the crash.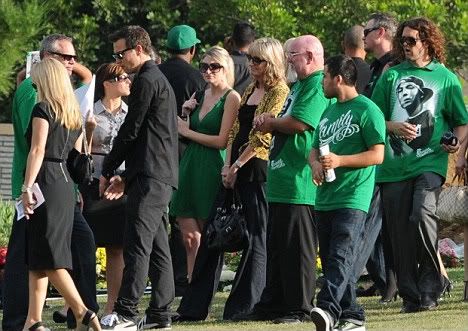 In honor of Chris, friends and family wore Chris's favorite color green to the service which was held at the Forest Lawn Memorial Park in Hollywood.

Travis and DJ AM are both expected to make a full recovery.


If you would like to make a donation to the memorial funds that were established for the benefit of Chris Baker and Charles Still's families, here is the info.


"Chris Baker Memorial Fund" and "Charles Still Memorial Fund"


Send to:
Memorial Fund
1840 South Milliken
Ontario, CA 91761



Photo credit: Travis- Charley Gallway / Getty Images, DJ AM & memorial service- National Photo Group