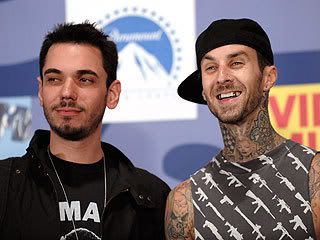 Travis Barker,
former
Blink-182
drummer
and celebrity disc jockey,
DJ AM
(real name
Adam Goldstein
) have been critically injured after fleeing from a burning Learjet that crashed just before midnight on Friday.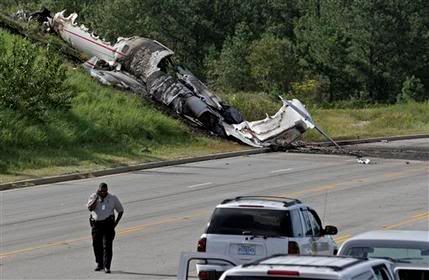 Officials said the plane carrying six people was departing shortly before midnight Friday when air traffic controllers reporting seeing sparks. The plane hurtled off the end of a runway and crashed through antennas and a fence. It came to rest on an embankment across a five-lane highway and was engulfed in flames, said Debbie Hersman, a member of the National Transportation Safety Board.


The plane was headed for Van Nuys airport in California.


Travis
and
DJ AM
who perform together under the name
TRVSDJ-AM
, had played a free concert at college along with
Jane's Addiction
former front-man,
Perry Farrell
and
Gavin DeGraw
.
The plane crash that took place in
Columbia
,
South Carolina
, claimed the lives of 4 people people.
Chris Baker
,25, who was
Barker's
assistant, pilot
Sarah Lemmon
,31, co-pilot
James Bland
, 52, and security guard
Charles Still
, 25, all from California, perished in the crash.
TMZ
is reporting that
Travis
was burned from the waiste down and that
DJ AM's
face was severely burned.
Sources tell
TMZ
that
Travis
and
DJ AM
saved their own lives by jumping out of the door of the plane almost immediately after the crash.
Passerby
William Owens
who had been driving down the highway when he said he saw a fireball go across the road, told a
local TV station
that the jet was
"in flames and the fuel is running across the road and I had to cross the fuel to get to the two guys that seemed to have been dumped on the highway."
Owens said the two men, believed to be
Barker
and
Goldstein
, were in the road trying to extinguish themselves.
He told the station he asked the men if there was anyone else on board the plane; they said four more were with them.
"We turned to the jet to try and see if there was anything we could do, but immediately, there was nothing anyone could do,"
Owens said.
Travis
and
DJ AM
are currently at burn center in
Augusta
,
Georgia.
Travis
is expected to survive and they are working on
DJ AM
who's face is badly burned.
********************************UPDATE**********************************
It was rumored that
Travis
had chartered the jet as a result of his assistant
Chris Baker
needing to get back to Los Angeles because his wife was in labor.
At the time of his death,
Chris Baker's
wife was not in labor and that is not the reason they were flying home on a private jet.
A publicist for
Travis Barker
and
DJ AM
said,
"Both

Travis Barker

and

Adam Goldstein (DJ AM)

are in critical but stable condition and are being treated at Joseph M. Still Burn Center in Augusta, Georgia after surviving a plane crash late last night in Columbia, South Carolina.




The hospital will issue a statement with an update on their condition at 9:00 am eastern time tomorrow. Due to the nature of the injuries and the evolving course of treatment no further information on their condition is available at this time.
The accident claimed the lives of four people on board, two of whom,
Chris Baker
(Lil Chris)

and

Charles Stills (Che),

were close friends of the injured.
On behalf of

Travis Barker

and

DJ AM,

deepest sympathy is expressed to the loved ones of all who perished in the crash. As the two recuperate and mourn this loss, privacy for them, their families, and friends is requested at this time."
********************************UPDATE********************************
It appears the reason that
DJ AM
was airlifted to the hospital and
Travis
was driven by ambulance instead, was because he refused to be airlifted. Can't say I blame him.
Gail Moakler
,
Shanna's
mom
and
Travis's
ex mother-in-law,
spoke with
People
magazine and told them
'Shanna

spoke to

Travis

last night.

He was defiant after the accident and didn't want to be lifted in a helicopter, but rather an ambulance, so they had to knock him out.'
She also told them that
Shanna
had rushed to be with him. She said,
'Our heart pours out. We're hoping he recovers. The family is rallying around him and saying our prayers.'
Travis
and
Shanna
have two kids together, daughter
Alabama
, 2, and son
Landon
, 4. The beautiful thing about
Travis
is he's not only a great father to his own kids, but I happen to know that he has remained an awesome father figure to
Shanna's
daughter,
Atiana
, 9, who's father is
Oscar de la Hoya
.
Gail Moakler
said that they have not told the kids what has happened yet. She said,
'We're waiting a bit to see what God brings.'
Photo credit: Brett Flashnick