Pink Floyd circa 1974, Richard Wright, Roger Waters, Nick Mason and David Gilmour
One of the founding members of Pink Floyd, Richard Wright, passed away on Monday. He died at his home in England, following a battle with cancer. He was 65 years old.
According to a rep for Pink Floyd, Wright's family members did not want to give any further information.
Wright, who played keyboard, met Roger Waters and Nick Mason in college. After initially starting the band Sigma 6 with them, the three young men went on to form Pink Floyd in 1965, with the late Syd Barrett.
Wright helped compose one of the best songs ever recorded (in my book), "Shine On You Crazy Diamond," which was recorded in 1974, as a tribute to Barrett.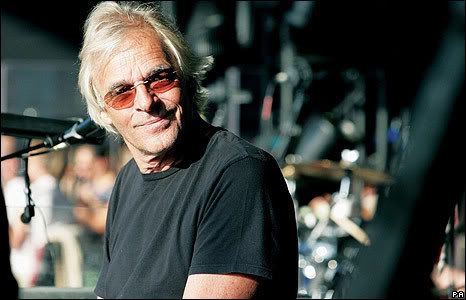 Although he split with the band in 1985 after a falling out with Roger Waters and David Gilmour, he reunited with the band after 25 years, to preform at Live 8 in 1985.
Now there are two crazy diamonds shining in the sky. He will be missed.
Photo credit: Getty Images