Happy Birthday to you, Happy Birthday to you, Haaaappy Birthday Dear Guuuuuuuy. Oops. Gotta go baby. Playn' at Wembley tomorrow night.
After having all of the fun that she could possibly have in one hour, at her husbands 40th birthday party,
Madonna
had to split and go home because she had another party to go to on the next night. Her own. At
Wembley Stadium
. Even some of her buddies flew across the pond to join her there. At her party.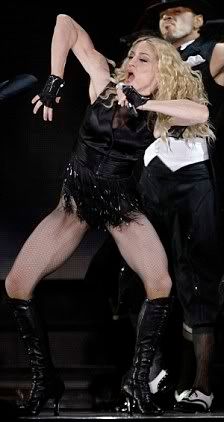 Workout buddy,
Gwyneth Paltrow
, along with
Kate Hudson
,
Fergie
(not the royal
Fergie
, the
Black Eyed Peas Fergie
) and
Penelope Cruz
were among some of the crowd who came out to watch
Madonna
shake her groove thang.
Even though the
Madge
crew seemed to be lovn' the show, lots and lots of audience members were not feeling the same love. Could have had something to do with the location of their seats, as they were not sitting in the VIP area, but it appears to have had more to do with audio problems. They couldn't hear her.
Around 30,000+ people could hear nothing but buzzing in between a few lyrics.
Many fans expressed their disappointment to the
Daily Mail
. Here are a few quotes:
"Great performance ? Maybe ! It should have been thought of to ensure that the entire place is exposed to the great experience and not only those who stood right in front of the stage. It was extremely disappointing to go to a concert of the queen of pop and to actually leave early, as you could hear people sing two rows behind you instead of her. Sorry, but for such a big event, it should be ensured that everything is perfect, even if you sit far away from the stage. I would also suggest to sing and not to put on a playback show. Additionally, if you pretend to play the guitar at least move your fingers so it looks as if you are playing chords. I think sometimes it is better to keep a dream a dream"
"I can't explain how disappointing this concert was, not just for me, but pretty much everyone around me as well! there was absolutely no atmosphere in the crowd and easily rates as my worst concert to date."
"She was hopeless... late onto the stage, sound was terrible (did she sing anything live?) and the screens were out of time with the sound - was like a poor impression of the guy from police acadamy. What a waste of money."
Madonna,
who was almost an hour late to the stage, gave no explanation as to why. This also left a lot of concert goers ticked off because many rely on public transportation to get themselves home, which is very common there and the schedule delay left a lot of people stranded.
You can't expect every concert to go off without a hitch, even if you are
Madonna
. But you bloody well make every effort to make sure that it does. Because the tickets to these shows are so fucking expensive. And the fans who can't afford them but buy them anyway, deserve better than that. Even if they can't afford a ticket next to the stage, they deserve a show to remember.