Gwyneth Paltrow
was on
Oprah
today, talking about her post natal depression, her career, her workouts and her buddy
Madonna
.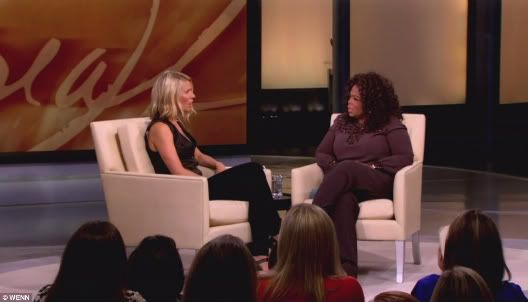 On having depression after giving birth to son
Moses
, she said,
"It was very strange, because I wasn't expecting it at all. After I had Apple, I would characterise it as post natal euphoria. I was on cloud nine, I was in a bubble and then when I had him I didn't feel ok, I didn't feel right.
He came out and I thought 'it's really strange, it's not the same, what's wrong with me?' I went down a slippery slope with it.
It was about six months until I felt completely normal again. I didn't realize what was wrong with me.
I
felt like a flatline. I wish I'd know because I would have gone on medication and addressed it."
Uh oh. Did you hear that
Tom
? She would
"have gone on medication."
Gasp! Rip her a new one
Tom
, because you of all people should know what it's like to carry a baby around for 9 months and then give birth to it. After you're finished with that, bash her career and then invite her to your next wedding.
On working out she said,
"Once I started exercising I was doing cardio and I felt like I had to get rid of stuff, I started recommitting to eating well because when I was pregnant I was eating donuts."
At this point I have to remind you about
Gwyneth
and
Madonna's
"celebrity" trainer,
Tracy Anderson
. I wrote a
post
about her a few months ago. She is a con-artist.
Tracy
may (or may not know) fitness, but in real life, with real non-celebrities,
Tracy
has screwed a lot of clients out of a lot of money, including one of my best friends, who was not a client. She was a friend, or so she thought.
Tracy
screwed her over
BIG BIG
time, owing her lots of dough. All the while telling lies, lies, lies. Huge TALL-tale kind of lies.
On being friends with
Madonna
,
Gwyneth
said,
"She is one of the most caring women and also a very tough woman.
She's very wise and has a very soft, soft side.
She's given me a lot of great advice, she really helped me out of my post natal depression."
On
Madonna's
kids she said,
"Her children are phenomenal. The little guy just kills me. He does dance routines from Madonna concerts on the living room floor. In fact my son and him battle it out to listen to either daddy's songs or mommy's."
On her career she says,
"I love acting but I have two little kids and it's 14 hours out of the house a day and I don't get that time back.
It's really hard for me to commit to doing that lead role. I haven't since I had kids, I've done supporting roles.
I can't be out of my house for 14 hours a day. I did a film in New York and I only shot for 16 days and for five of those days I left the house while my kids were asleep and came back when they were asleep.
I walked into their room and just cried. It was pathetic I missed the whole day, I didn't know what they said today, what they ate. I just felt terrible."
Sounds like
Gwynie
is trying hard to be a good mama.