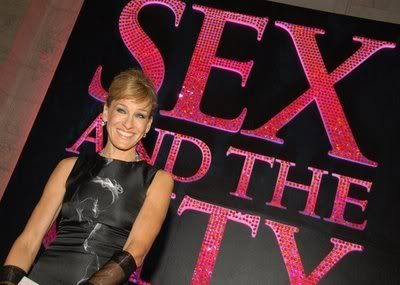 At the Public Library in New York last night, the same place where
Big
left
Carrie
standing at the alter, they had a party to celebrate the release of the film on DVD.
Most of the cast were there, minus
Kristin Davis
who was in L.A. and couldn't attend.
Sarah Jessica Parker
looked like todays version of
Audrey Hepburn
with her new short bangs, smoke'n black dress, accompanied by long sheer gloves. She really pumped up the volume on the outfit with her sassy adorable hot-pink heels that matched the hot-pink carpet they had rolled out for the event.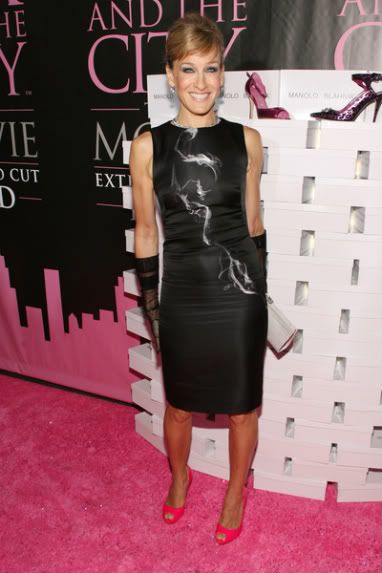 The good news for us is, they had more to celebrate than just the release of the DVD.
Sarah Jessica
and
Michael Patrick King
both confirmed that they will be doing another movie. King is ready to start writing it.
Sarah Jessica
said,
"It's all about the story. If we can't tell a story that's really worthy of an audience, then we won't do it. We've been really lucky at this point. We've been in people's good graces for a long time, and we take that very seriously. So that's the biggest challenge, the story."
King
added,
"I'm thinking of doing an animated version of them as babies."
To that
Sarah Jessica
joked,
"Let's wring everything we can out of this thing!"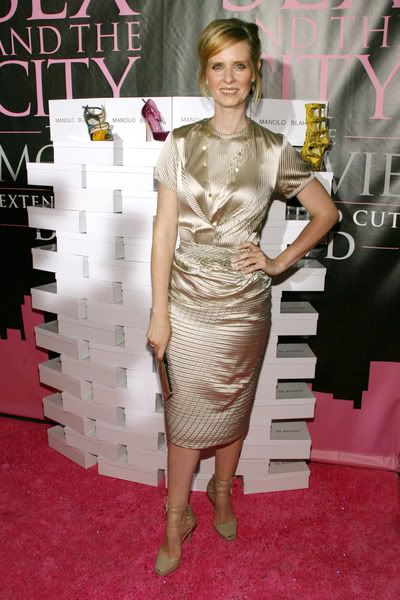 Miranda
(I mean
Cynthia
) said,
"I would love to see her and Carrie and Charlotte and Samantha all go off on some wild mad cap adventure somewhere."
Sounds good to me. How about Rio?
Candace Bushnell
also announced that she will be writing a "prequel" to the ladies lives. Maybe starting from when they were teens, all the way through college and then on to when they all met. How cool is that? I love it!
"Sex and the City"
rocks the 80's!
They could come up with so many rad outfits. Bring back Norma Kamali! Bring back the Izod shirts! Bring back jump suits! Bring back fuchsia tights! Bring back gold metal belts with lion heads!