It appears that the reason
Kate Hudson
and
Lance Armstrong
broke up is because
Kate
is a little too clingy to her men.
Chicago Sun Times
is reporting that an
Armstrong
associate at
Livestrong
has dished on the couples split by saying that
Kate
was
''just too needy,''
and was coming on
''too strong, too fast."
The
Livestrong
associate went on to say that
Armstrong
was
"sensing Kate was way too desperate, a woman who clearly can't be on her own without a man in her life at all times.''
I guess
Lance
wasn't digging all of the combined family get-togethers with the kiddies. Too bad his buddies are having kids too. All of this family stuff isn't as fun riding solo.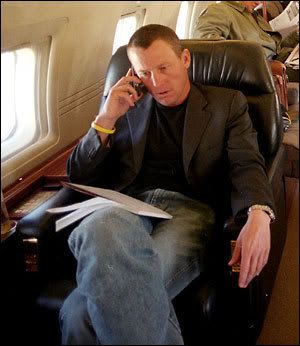 The source made reference to what
Lance
liked about his old flame
Sheryl Crow
and mentioned the reason why
Crow
and
Armstrong
were able to last as long as they did. The source said,
''Sheryl's one very independent woman. ... Lance liked that."
What the source forgot to mention is that
Sheryl
is way the hell older than
Kate
is.
Kate
still has a long way to go before she realizes that she doesn't
need
a man in her life.
How easily we forget that not so long ago,
Sheryl
was singing the song
"Strong Enough."
Here's a little verse to remember: