If you love the 4TH of July like me, you probably already know what your plans are, like me. I'm going to be poolside all day with a lot of friends and then off to see fireworks. It's the way I was raised, I can't help it. I will move heaven and earth on the 4TH to see fireworks. It's not the effing 4TH of July if I don't get to see fireworks. You feeling me? I have friends who don't do anything 4TH of July related. They will hang out at home and watch TV or nap or go shopping or whatever and then either stay in or go to a party that night. I'm talking about a party indoors at a club or at somebodies house (not near the beach) and they won't be seeing any fireworks at all. I don't get that. Why don't they feel the need to at least eat some watermelon or something on the 4TH? Where's the spirit? I'm just saying, you can do all that other crap every other day of the year. I'm not suggesting that you bust out the red-white-and-blue.


But, if you're not interested in fireworks, you hate watermelon and you're still looking for something to do, here are a few choices.
You can kick it at
The Super Naughty Pool Party
@
The Standard downtown
. I'm sure there will be a whole crew of pimps and ho's to feast your eyes on.
RSVP to

PoolParty@turntablelab.com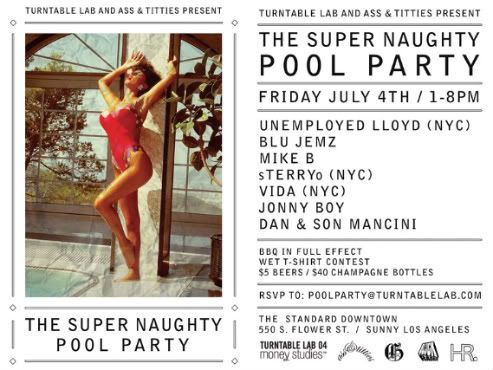 Or you could head west. I know traveling over to the westside may be stepping out of your comfort zone but I'm not talking about going to Marina del Rey. You can breathe again, it's only Westwood.
The Backyard
at the
W Hotel
is having a party from 10PM - 4AM. I think for that, you may as well book a room for the night. If you are out til 4 in the morning, you probably shouldn't be driving anyway. You may actually be able to see some fireworks from this party. 930 Hilgard Avenue
And last but not least, there is a party for the soft-opening of
The

Kress
Hollywood across from the
Geisha House
. The grand opening is next week but you probably won't be able to get into it, so this is your chance to check out this 4- story nightlife haven, before the velvet ropes go up. 6608 Hollywood Blvd.
Whatever you end up doing, DO NOT GO TO THE BEACH! Unless, you have a friend with a beach house, you head there at 6AM and you spend the night.