Paris Hilton
is not the first pink blonde to be famous for nothing. I think that
Paris
learned a trick or 2 from our very own
Angelyne
.
Angelyne
(no one knows her last name or real name for that matter) is famous in this town for splashing herself on billboards all around Hollywood since the early 80's. She has landed herself countless times, on several pieces of prime billboard real estate which we all know costs beau coup bucks, but it remains unclear who footed the bill for all of her advertising over the years. There have been rumors such as her sugar daddy's pay for it, her loaded husband and even a sheik, but
Angelyne
claims to be single and says that "investors" are the ones paying.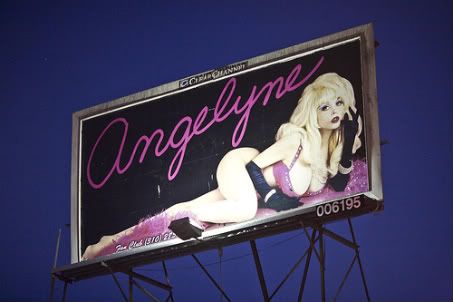 I'm not really sure what they are investing in. They could never make back what they've already spent on her billboards. I can't even imagine how much dough has gone into keeping her face and body out there. It's actually mostly her body.
Angelyne
usually has shades on and always butt loads of make up but the focus on the billboards has been her big boobied body.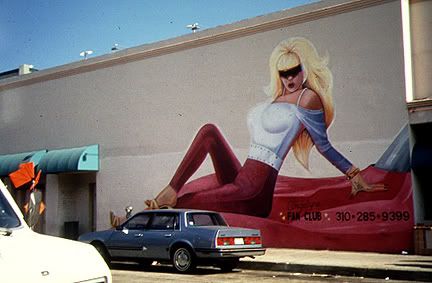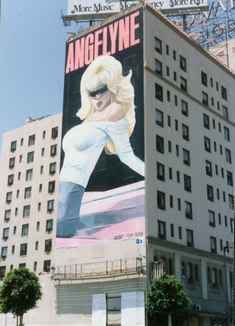 Angelyne
has had cameo's in movies, music video's and TV, but I don't think she's raking in the cash from it. Probably her most popular appearances have been in
Earth Girls Are Easy
and
Escape From LA
. Main character
Kurt Russel
is walking down Hollywood Blvd. with the city of Los Angeles in ruins and looks up to see an
Angelyne
billboard, perfectly intact.
At one point Angelyne even decided to run for Governor, when we had the recall. I think she has even tried for mayor. She thinks of herself as a real-life Barbie and also thinks that we could somehow benefit from that in our government in California. Who knows? Maybe she's right.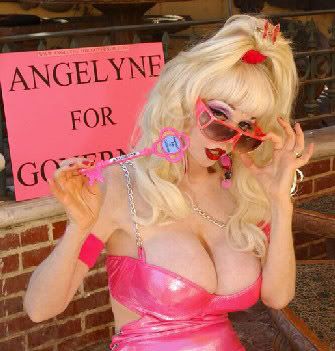 Seeing
Angelyne
in person is kind of like a
Big Foot
sighting, only you really do see her out and about sometimes. The best place to catch her is at the market in Beechwood Canyon. I've seen her there a lot. I always find my self wanting to get up close to her to figure out what is all going on underneath those shades. I'm guessing that she is in her 60's? It's hard to tell under the 7 layers of make up but I don't think anyone knows her age.
IMDb
lists her as being born in 1958. No way Jose!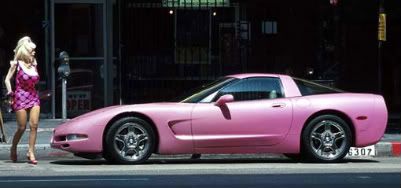 If you don't spot her at the Beechwood market, you may spy her driving around town. You can't miss her because she is always made-up and she is always drive'n dirty in her bright pink Corvette. Her hair never blows around in the wind either. It's amazing.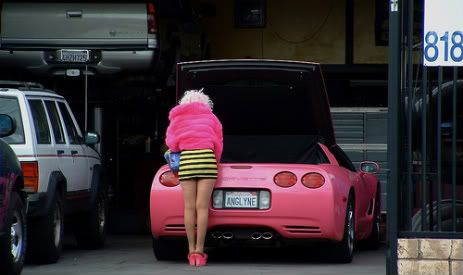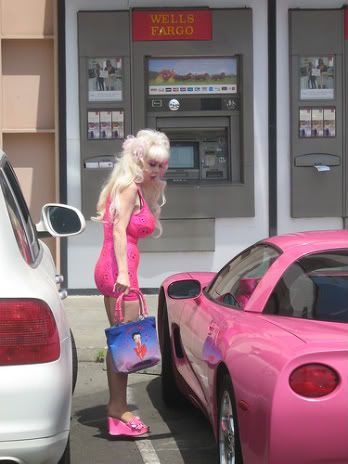 Our friends at
lipsticktracez.com
had a
Big Foot
moment recently and actually captured this rare pink species during an interaction with another animal who happened to be black and white.
photo by karen kimmel's man
I know that I went
Angelyne
picture happy but she is sort of fascinating. So, here's a video. And then I'm gonna stop. I swear.