It used to be that you would only see paparazzi at red carpet events. Other than that, you would never see them anywhere else at all. I mentioned in a previous post that I used to stay at
Brad Pitt's
house to keep an eye out while he was away working. I never, not once saw a paparazzi lurking around outside of the house. There were the occasional fans and stalkers, but never paparazzi. I think that everyone knows that this is no longer the case. The paparazzi are everywhere now.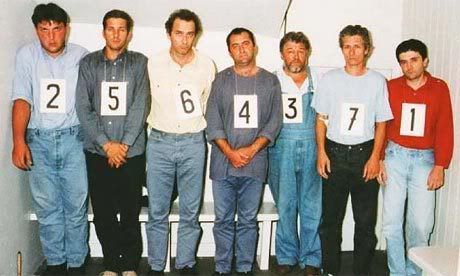 I can't say for sure when this started but I think that it really started kicking into high gear with
Princess Diana
. The photo above is of the *ssholes who who played a huge role in her death. I mean, look at this photo below. They are in their car
driving
and look how the paparazzi got in front of them!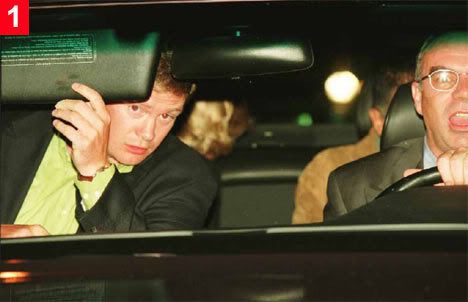 [
photo via dailymail
]
People think that this new breed of paparazzi only affects celebrities, but this is not true. Living in this town, it has an effect on us all.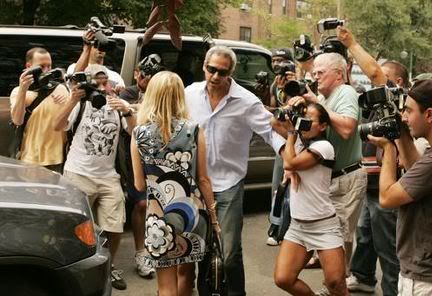 Each time I have an appointment at my doctor's office on Bedford Drive in Beverly Hills, there is some sort of frenzy going on. I finally figured out that the cause of this was because
Anastasia's
Salon (
Anastasia
is supposed to be the "brow guru") is also on Bedford. The first time that I experienced this was when I was walking back to my car which was parked at a meter. My car was surrounded by paparazzi and there was also a big black Mercedes SUV blocking my car in. I continued to my car all the while thinking WTF? I went ahead and got into my car, thinking that they will all move out of my way, right? They didn't. Just as I was about to go ape-sh*t for them holding me hostage, out walks
Nicole Richie
from
Anastasia
. They started running in all directions, screaming "Nicole" and flashing a bunch of photos, as she got into her Mercedes SUV . Although I was not the one at the center of this storm, I
was
in a way. I felt like I had just been attacked. It was a very odd feeling.
The paparazzi is big business. When they are at red carpet events, they are not only taking pictures but they are standing there with a hand-full of celeb head shots to get autographed so they can sell them on eBay. This sucks for the real fans because celebs end up not wanting to sign anything because they know all about this crap. They carry walkie-talkie type phones that they talk to each other on because they have different locations staked out. They run themselves like a military group with very sophisticated technologies and covert operations.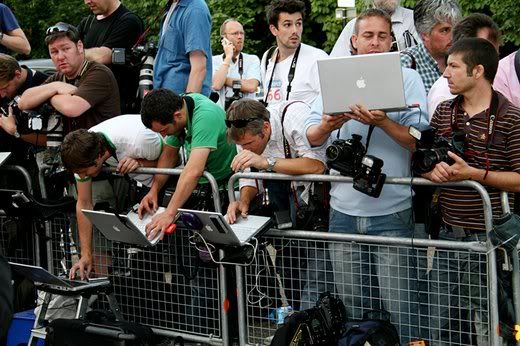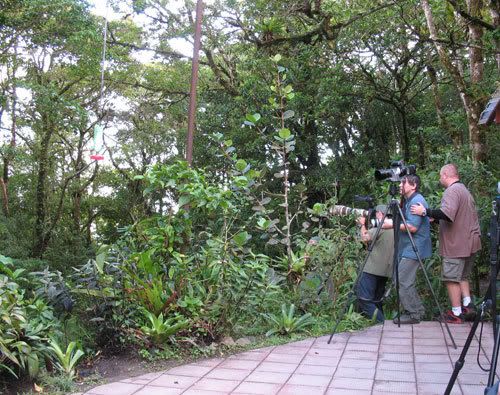 And here is another interesting fact. Most paparazzi here in Los Angeles are
foreigners
. How is it that they get the opportunity to come into our country to
stalk
people? It's kind of mind blowing.
There is also a new generation of paparazzi that are not foreigners. They grew up here in good ol' Hollywood and they're still growing up because they are TEENAGERS. Yep, that's right. 14, 15 and 16 year old kids are now joining the ranks. Their parents drive them around town to do their "jobs". These kids are dropping out of regular school, ya know where they would normally hang out with kids their own age and are now being home schooled so they can hang out with adults to stalk people for a living. Craaaazy. Like
Cat Stevens
said "Oh, baby, baby it's a wild world".