Pink's is a Hollywood landmark. It has been around since 1939. It does not matter what time of day you drive by there day or night, there is always a line... a long line.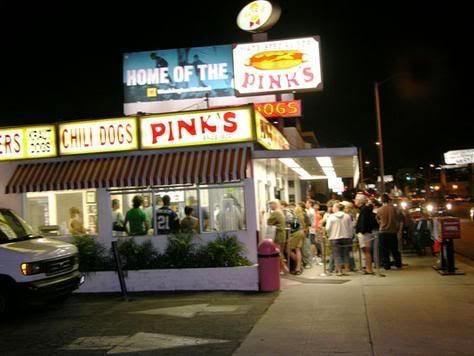 Pink's has been known for having amazing hot dogs & chili dogs, but I'm not clear on who agrees with this theory. It is a fact that I have NEVER driven by Pink's without seeing a line outside, but who's in that line? I ate there once, many years ago. I felt like I was going on a pilgrimage to the Holy land of hot dogs, only the journey took about 5 minutes to get there. I went with a group of my friends who for some reason had also never eaten there. Our conclusion was the same, worst hot dog ever. We wanted it to be good. We wanted it to be amazing, but no one could get over the fact the the skin on this hot dog was tough. It's grossing me out just thinking about it. I couldn't finish mine.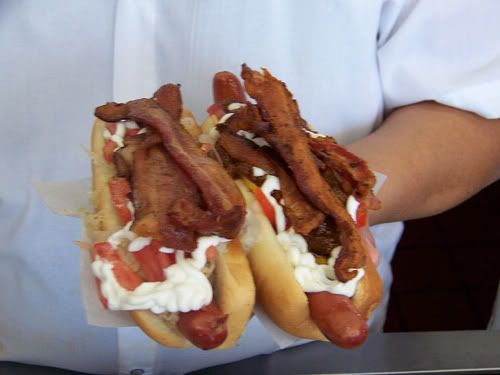 Which brings me back around to WHO ARE THE PEOPLE STANDING IN THAT LINE? I'm guessing that they are tourist? Maybe they hand out a map of places that you have to go to because the STAR'S EAT PINK'S HOT DOGS? I dunno. All I know is that I have never known anyone who likes their hot dogs and I have known a lot of people in my life here. It's a mystery to me.
For those people who don't live in LA or have never traveled here before, you may have seen Pink's or heard about it on JACKASS, when Brad Pitt was "abducted" from there.