No, I didn't desert my postings. I just spent some time at the beach for Father's day weekend with mi familia. It was nice and relaxing and we all got burned. It wasn't because we didn't apply sunscreen over and over and over again. It's because we all flunked in our application technique. I guess the reason for that is it's the beginning of summer and we've all lost our touch. None of us are burned all over, just streaks and patches of burnedness on our feet, hands, lower backs and bordering up to our swimsuit straps. Sunscreen flunkies.
My dad did something that I've never seen in my entire of of sun bathing. He put his 50 block on and let it dry. Then he whips out the baby oil! Geez, I remember that being one of the only things that I used to lay out with. Either that or Bain de Soleil or the orange oil from Erno Laszlo. What was sunscreen? Nutz. So, I ask my dad WTF is he doing and he said that he already had the 50 block on so he was fine but that his skin gets dry so that's what the baby oil was for. I thought that was genius, but I also thought that it was crazy so I didn't partake.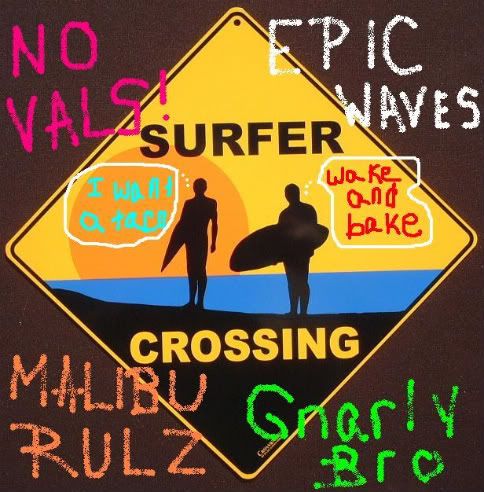 When I first moved to California at the age of 16, I lived at the beach and fell hard for the surfer boys. The first guy that I fell for was named Jake. Could you ask for a better name than that? His house was very strange and you had to crawl through a hole in a wall to get into his room. The hole was in the MIDDLE of the wall. Not an easy task after you've just done a bong hit. After I got bored with Jake, I fell for a guy named GUY. Guy Jeans- real name. I'm not sure what his parents were thinking but I didn't care, he was BLONDE and tan and he surfed. My standards were low.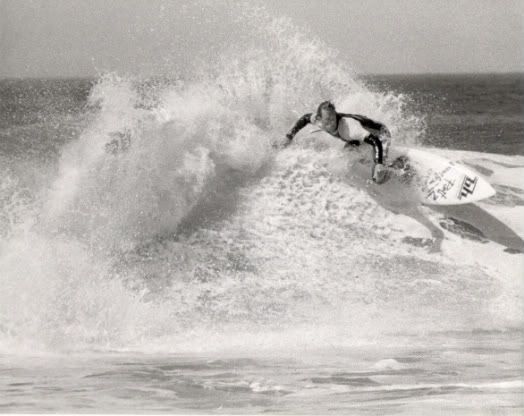 After high school, I fell for yet another surfer only this time he was a college student (yipee) at Pepperdine. His name was "Cuts". That was a shortened version of his last name and used as a nickname for cutting into a wave. Dude, ya get it? The photo above is of him and was taken by me. I became the dutiful surfer girlfriend who photographed or filmed his sets. Why didn't I just apply for a job at Surfer Magazine? He would edit the video and add music to it so when his buddies came over (which was every day) they would sit around and watch it. Most of his surfing buddies didn't have girlfriends. I don't think that they could keep it together long enough to have a girlfriend, so when we went on surfing trips up and down the coast or to Mexico or Hawaii , I was usually the only chick. That kinda sucked. My surfer dude didn't think that it was necessary for me to do things like shower or BRUSH MY HAIR and I didn't have any females around to back me up. I wasn't willing to become a dirt devil for the sake of surfing. That was too totally gnarly for this surfer girl.
Eventually, I moved away from the beach and started moving further inland to Brentwood. I always swore that I would never move any further east than that. Hollywood was gross, right? I had already been living the beach life for about 6 years and was now finished with school and working in Beverly Hills, so Brentwood was a much easier commute. After meeting new people who didn't have sand stuck between their toes and working in Beverly Hills, it didn't take long for me to start going out in Hollywood more and more and begin running with a new pack. I began trading in my cut off jean shorts, tie dye shirts and lip gloss for Fred Segal dresses, funky shoes and lip stick. It started getting hard for me to blend "Cuts" in with my new life. Trying to take him with me to clubs, parties or premieres became a problem when all that he owned was shorts and his idea of showering was jumping into the ocean. He was a fish out of water.
I was liking the city life which seemed much more fun and "grown up". Plus the Endless Summer thing was getting old. I was changing and "Cuts" was drinking too much among other things, so we broke up. Got back together again. Broke up again. Got back together again. Broke up again. You know the drill.
And then I met the opposite of a surfer. A guy from New York who rode a Harley, had BLACK hair, wore jeans and motor cycle boots and was an actor -which I also swore that I would never get involved with. Ha Ha at myself. Apparently all of my swearing didn't amount to anything but a bunch of BS because I ended up doing everything that I swore that I would never do. Here is part of the never-gonna-do-swear-it list.
1.
Move away from the beach
2.
Move further east than the 405
3.
Move to Hollywood and
4.
Date an actor. I actually had a longer version of the never-gonna-do-swear it-list & did it anyway, but I'll just keep the rest of those little items to myself thanks. Oh, to be young, dumb and full of...shit.
After now having lived in Hollywood for what seems like a zillion years, I appear to have come full circle. I have taken off the lip stick and am back to wearing lip gloss. I have even rocked the cut offs a few times again. The surfers aren't looking so bad after all and the guys with black hair from New York are kinda self absorbed assholes. Now all I want is to live at the beach again in an amazing house with amazing views and have sand between my toes. All I need is about 15 million dollars to accomplish this goal.
That f-ing grass is always greener on the other side. What's up with that?