The
Chateau Marmont
is like a sultry old grande dame. She rests elegantly on the hillside, looking down on
Sunset Boulevard
and she has a bank vault full of secrets in which most of them, only she will ever know.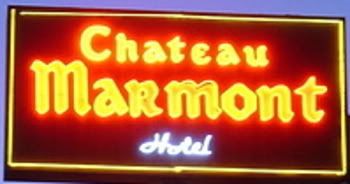 Some of the more famous tales include
Led Zeppelin
giving the guests a show one night by riding their motorcycles thru the lobby,
Jim Morrison
attempting to scale the outside of the hotel and of course
John Belushi
being found dead of a drug overdose in bungalow #3. (side note: I got to see him one time before he died when I was a little girl at a movie theater on Martha's Vinyard. He walked into the movie that I was seeing along with
Carly Simon
, after it had already started. He stood there in the middle of the isle scratching his head and I guess trying to figure out if he wanted to stay and watch it. They left after a few minutes. The only reason that I knew who he was as such a young'n was because I used to stay up late with my dad to watch "Saturday Night Live". Not a thrilling story but it was for a little girl.)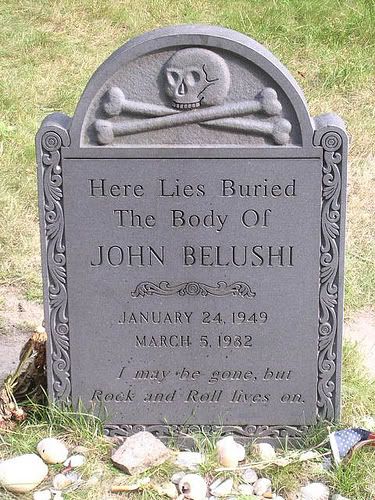 The
Chateau
is a playground for Rock n' Rollers, eccentrics, people who don't want the party to end and people who don't want to commit to a home of their own. Everybody knows this, right? People check-in and don't check out...for years. Most of the rooms along with bungalows and the penthouses come with a full kitchen. If you don't want to cook or don't know how to, they have an old-world-country-house-feeling dining room or you can eat in the ever so luscious garden. The food is good. If you're not interested in food, they also have a bar/lounge. The pool is not big. Don't expect to feel like your hanging out at a resort with a big honking pool. It's like the size of your pool in your own backyard, but it's really nice. It becomes home for a lot of people.
The
Chateau
has been around for a long time. Not European long but long by Hollywood standards. It was built in 1927 and opened in 1929 as an apartment building. In 1931 it re-opened as a hotel and has survived every single earthquake that we've had since then. Where are
those
kind of builders when you need 'em? I lived in a house that was built in the 30's when we had what
I
considered to be "THE BIG ONE" and my bedroom wall buckled. This is definitely where I want to be when we have the really "BIG ONE". If it doesn't make it through that one, at least I'd die in a nice place.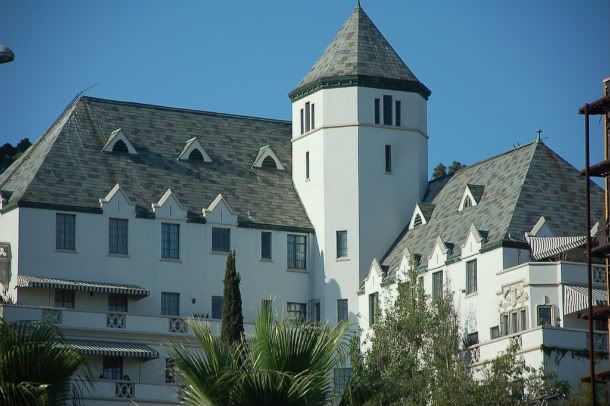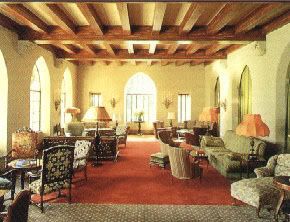 If you are coming to LA for a visit and can afford it, this is the place to stay.
Andre Balazs
(
Uma
Thurman's
old boyfriend) has owned it since 1990 and has maintained it's integrity. It is beautiful but not in an opulent sort of way. Although the lobby and other parts of the hotel are Gothic, the rooms, suites and bungalows are no fuss. They are easy-going-cali-cool. It's comfy and makes you feel at home, only at home you probably wouldn't see
Mick Jagger
talking on his phone by the pool or be sleeping in a bed that
Heath Ledger
slept in.
We miss you
Heath
.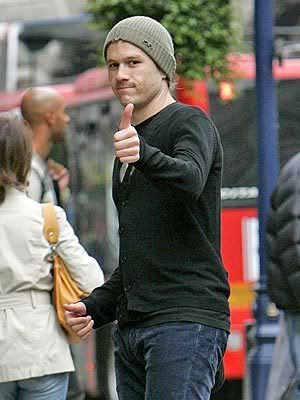 If you should stay here, whatever the time of year, there is always something going on at the
Chateau
. You might see a photo shoot in progress (side note: The one and only
Helmut Newton
crashed his car into a wall there and was killed in 2004) or somebody recording music that will be forever famous someday or meet someone in the lobby who invites you to a little get together in
Jude Law's
bungalow. If you can't afford to stay there, you should at least stop by for lunch or dinner. If eating is not your thing, you can always drink to your hearts content.