Jenny from the block
is being sued for $5 million by
NetJets
flight attendant
Lisa Wilson
.
Jenny
had
"Floyd"
her German Shepard security dog (I've never heard of that) with her on a chartered Gulfstream flight from New York to Burbank, a year ago.
Jenny
informed
Lisa
the flight attendant, that
Floyd
was a good doggie and told her how to behave around the dog. Well, "killer" had plans of his own and attacked the flight attendant, causing her to injure her back when she fell, while trying to escape.
Lisa Wilson
had to have surgery from her injuries and claims that she has not been able to work since.
I've never been attacked by a German Shepard but I have been attacked by a Rottweiler. A Rottweiler who loved me for a whole year before he fractured my hand with his jaws. I'm just saying that getting attacked by a dog can be a really bad experience. I felt like I was being attacked by a shark, shaking my hand back and forth. Those kinds of dogs are crazy strong. One of my friends refers to it as "retard strength". Those are my friends words, not mine, so don't send me hate mail.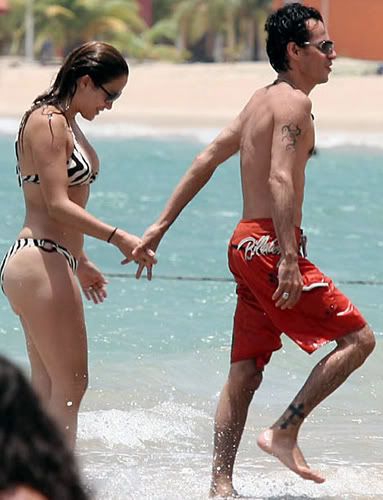 Back to
J Lo
. I think that the reason she needs a guard dog is because it's pretty clear that her husband would not be able to protect her from any intruder. From the looks of his photos,
Marc Anthony
needs to eat a sandwich. I can't imagine my arms being bigger than my husbands. My rule of thumb has always been, can this guy protect me if someone breaks into the house?